About Our Company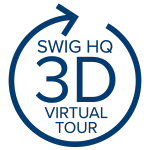 The Swig Company, LLC is a privately owned real estate investor operator based in San Francisco with a venerable 80-year history of investment, development, partnership and management of commercial properties in major U.S. markets.
Take a virtual tour of our corporate headquarters in San Francisco, CA, after we renovated, bringing the same attention to detail that we bring to all our buildings.
The History
Founded in 1936 by Benjamin Swig, The Swig Company takes a long-term view that has guided investors safely through many market cycles. The Company has built a significant presence in several major markets across the United States through ownership of prominent commercial properties. Benjamin Swig acquired the San Francisco Fairmont Hotel shortly after World War II and went on to develop hotels and build the Fairmont brand in several cities. Though the Fairmont Hotels were the most visible of its holdings, The Swig Company has steadily built a major presence as a developer, owner and operator of urban office buildings and other commercial properties. Current real estate holdings include a diversified, limited-risk, urban office property portfolio of approximately 9 million square feet primarily invested in Northern California, Southern California and Manhattan. The Swig Company identifies and invests in value-added properties, maximizing their worth through active management using its expertise in physical transformations, leasing and through structuring and implementing complex financial transactions.