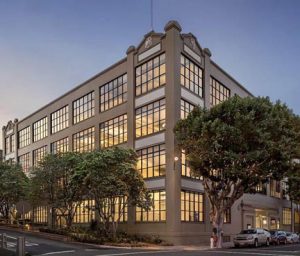 The Swig Company and Medley Partners Complete Sale of 901 Battery Street
September 6, 2017
The Swig Company and Medley Partners today announced their venture has completed the sale of 901 Battery, an 89,904 square foot creative office building with adjacent parking structure in the city's North Waterfront-Jackson Square submarket. The buyer is Shorenstein Company, a San Francisco-based family office. Terms of the transaction were not disclosed.
The partners purchased 901 Battery in December 2012 and immediately instituted a capital investment program designed to reposition the four-story building as an institutional-quality asset in a submarket growing in popularity with creative tenants. As part of the program, The Swig Company executed a seismic retrofit, lobby and façade renovations, and upgrades to each tenant floor. The renovated building features large, open floorplates, abundant natural light and high ceilings. Tenants include Viscira and architectural firms BAR and KMD.
"The repositioning of 901 Battery succeeded both as a tribute to the building's historic presence in the North Waterfront neighborhood (through the façade restoration), and as an expression of strong, contemporary design in the reconstruction of interior lobbies and path-of-travel, all of which resonate
strongly with today's creative tenants," said Deborah Boyer, Executive Vice President of Asset Management, The Swig Company.
Kyle Kovac, Michael Taquino, Daniel Cressman and Mandy Lee of Newmark Knight Frank arranged the sale on behalf of The Swig Company and Medley Partners.
(EDITOR'S NOTE: The Registry reported in June of 2017 the sale of this asset for just under $55 million or nearly $763 per square foot, according to sources familiar with the details of the sale.) San Francisco, CA (September 6, 2017)
About The Swig Company
The Swig Company, LLC is a privately-owned, San Francisco-based real estate operator with an 80 year history of investment, development, partnership and management of commercial real estate properties in major US markets. Founded by Benjamin H. Swig in 1936, The Swig Company is guided by a long-term investment perspective that has proven adept at stewarding investors safely through multiple market cycles. The company's vertically-integrated operational platform, which includes investment, asset and property management, and leasing expertise, uses flexibility, generational thinking and sensitivity to sustainable practices to stay at the forefront of emerging trends in the commercial real estate industry. For more information, visit: www.swigco.com.
About Medley Partners
Medley Partners manages private market investments on behalf of Jim Simons' family and affiliated foundations. Medley invests primarily in limited partnerships across the private asset classes, including buyout, growth equity, venture capital, real estate and credit in the United States, Europe and Asia. Medley will also participate in co-investment opportunities with existing managers and direct investments in real estate with experienced operating partners. For more information, visit www.medleyp.com
Published by: The Registry, Bay Area Real Estate
External Link: http://news.theregistrysf.com/swig-company-medley-partners-complete-sale-901-battery-street/