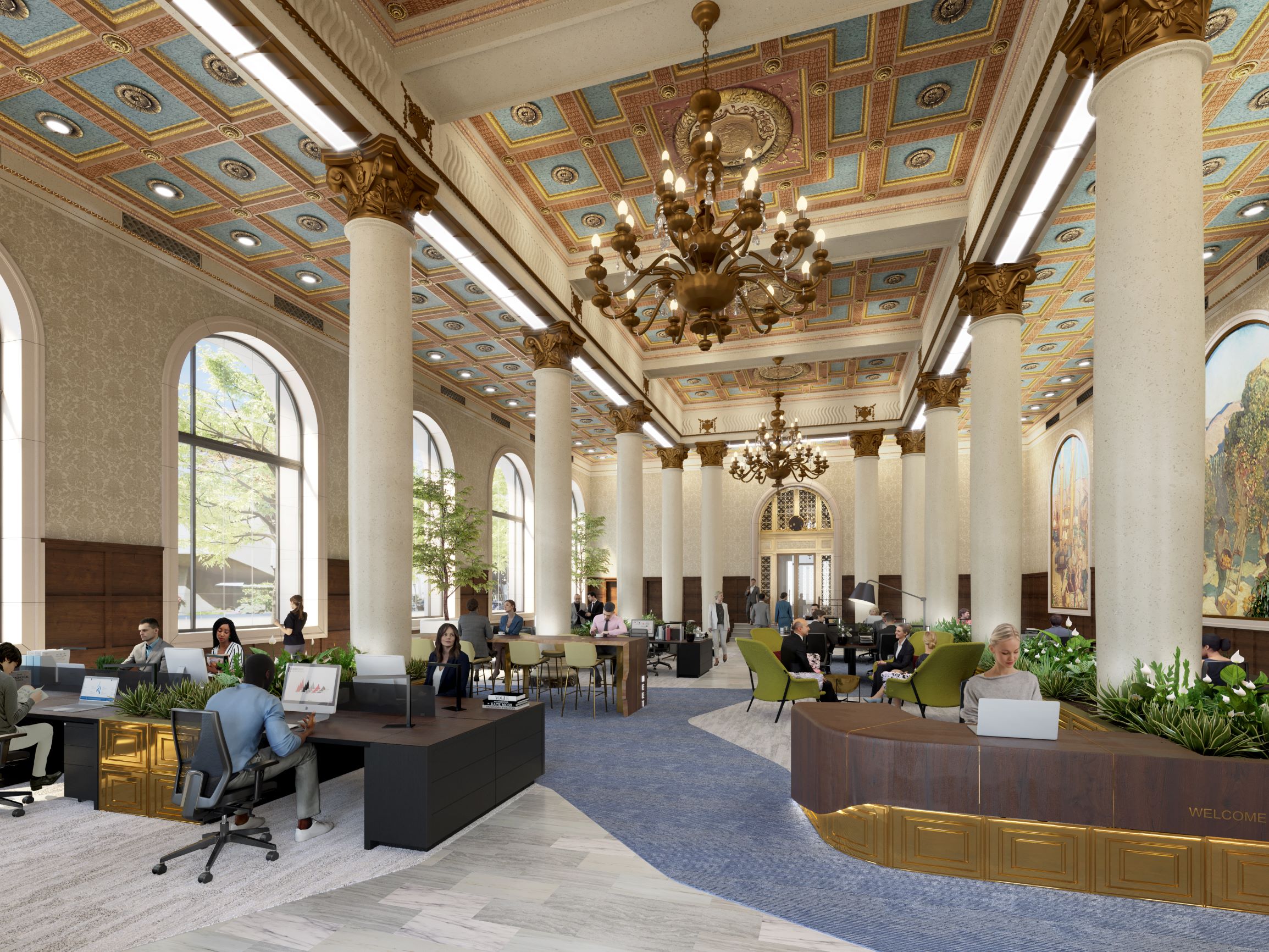 Prime Pasadena Commercial Space Comes on Market
May 7, 2021
PASADENA (May 7, 2021) – The Swig Company has confirmed it has begun marketing approximately 15,000 square feet on the ground floor and mezzanine level at 595 E. Colorado Blvd., a historic office building in the heart of downtown Pasadena. Dan Alle and Carole Walker of Redstone Commercial Real Estate are handling the listing.
Most recently used as a flagship bank for a major financial institution, the space features gorgeous 30' coffered ceilings and includes a mezzanine as well as a basement with a fully functioning 7,800 square foot bank vault.
The first floor space features historic murals painted by artists John B. Smeraldi and Alson Clark. Smeraldi painted the famed ceiling frescoes at Los Angeles' Biltmore Hotel and local Impressionist Alson Skinner Clark painted the fire curtain at the nearby Pasadena Playhouse. Clark's 595 E. Colorado murals were completed in 1929 and depict four major Southern California economic drivers: oil drilling, citrus farming, the film industry and shipping. The building's original earthquake support system was designed by professor R.R. Martel, who taught at nearby California Institute of Technology (Caltech).
Cory Kristoff, SVP in charge of Asset Management for The Swig Company's Southern California portfolio, sees the availability as a unique opportunity for a wide range of tenants looking for a unique prime downtown Pasadena location along the famous Rose Parade route.
"This is the first time this unique space has been available since the original bank occupied the space in 1928 and it will appeal to a wide range of tenants from banks and financial services companies to technology firms looking for creative office space with lofty ceilings and high speed connectivity," she said.
595 E. Colorado Blvd. is located in Pasadena's Playhouse District, less than 1 mile from Cal Tech and just east of the Old Town Pasadena and the Paseo Colorado. The building is surrounded by many popular restaurants and tenant amenities and is close to on/off ramps for the 134 and 210 freeways and just blocks from the Metro Line Gold Route to downtown LA.
The 8-story building opened in 1928 and is listed on the National Register of Historical Places. The first floor space has been featured in several movies and an episode of a 1980s CBS TV series.
For leasing inquiries contact Redstone Commercial Real Estate, Dan Alle or Carole Walker at 626-795-2255
###
About The Swig Company:
The Swig Company, LLC is a privately-owned, San Francisco-based real estate operator with an 80 year history of investment, development, partnership and management of commercial real estate properties in major US markets. Founded by Benjamin H. Swig in 1936, The Swig Company is guided by a long-term investment perspective that has proven adept at stewarding investors safely through multiple market cycles. The company's vertically-integrated operational platform, which includes investment, asset and property management, and leasing expertise, uses flexibility, generational thinking and sensitivity to sustainable practices to stay at the forefront of emerging trends in the commercial real estate industry. For more information, visit: www.swigco.com.