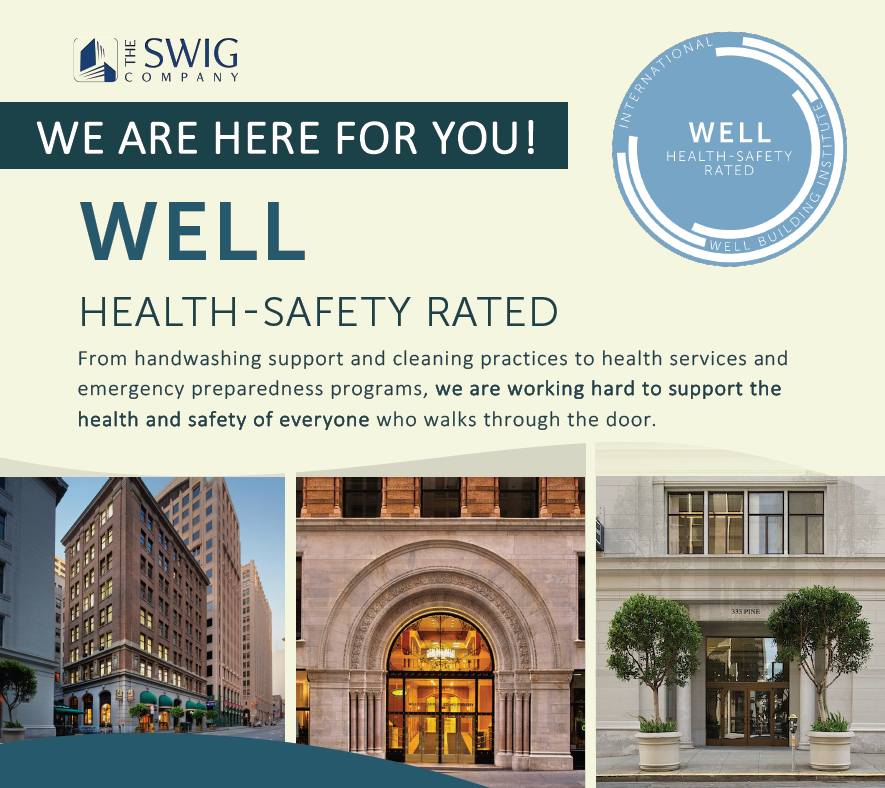 The Swig Company Announces Achievement of the WELL Health-Safety Rating for the Mills Complex in San Francisco
May 4, 2021
San Francisco, CA (May 4, 2021) – The Swig Company announced today that the Mills Complex, which includes the historic Mills Building, and adjacent properties 333 Pine and 369 Pine, has been awarded the WELL Health-Safety Rating through the International WELL Building Institute (IWBI). The WELL Health-Safety Rating is an evidence-based, third-party verified rating for all new and existing building and space types focusing on operational policies, maintenance protocols, stakeholder engagement and emergency plans to address a post-COVID-19 environment now and into the future.
Designed to empower owners and operators across large and small businesses alike to take the necessary steps in order to prioritize the health and safety of their staff, visitors and stakeholders, the WELL Health-Safety Rating can help guide users in preparing their spaces for re-entry in the wake of the COVID-19 pandemic, instilling confidence in those who come through the building as well as the broader community.
Connor Kidd, Executive Vice President and Director of Asset Management said:
"Our commitment to our staff, tenants and guests is that "We are here for you" and the WELL Health Safety Rating is further demonstration of that. In order to achieve the WELL Health-Safety Rating, the Mills Complex has implemented features such as employing new sanitation procedures, providing health service resources and expanding emergency preparedness programs. This certification enhances our efforts to support the long-term health and safety needs of our staff, tenants and guests, and we are excited to roll the program out across our national portfolio."
The WELL Health-Safety Rating provides a centralized source and governing body to validate efforts made by owners and operators. It leverages insights drawn from the IWBI Task Force on COVID-19, in addition to guidance on the spread of COVID-19 and other respiratory infections developed by the World Health Organization (WHO), U.S. Centers for Disease Control and Prevention (CDC), global disease control and prevention centers and emergency management agencies, as well as recognized standard-making associations such as ASTM International and ASHRAE, and leading academic and research institutions, as well as core principles already established by IWBI's WELL Building Standard, the premier framework for advancing health in buildings and spaces of all kinds.
The Swig Company engaged Leading Edge Consulting Services to coordinate the submission and review process. The Mills Complex was awarded the WELL Health-Safety Rating following the successful completion of third-party review by Green Business Certification Inc. (GBCI).
About The Swig Company:
The Swig Company, LLC is a privately-owned, San Francisco-based real estate operator with an 80-year history of investment, development, partnership and management of commercial real estate properties in major US markets. Founded by Benjamin H. Swig in 1936, The Swig Company is guided by a long-term investment perspective that has proven adept at stewarding investors safely through multiple market cycles. The company's vertically-integrated operational platform, which includes investment, asset and property management, and leasing expertise, uses flexibility, generational thinking and sensitivity to sustainable practices to stay at the forefront of emerging trends in the commercial real estate industry. For more information, visit: www.swigco.com.
About Leading Edge
Leading Edge is a sustainability focused consultancy integrating building performance, health and wellness and equity values across their clients' portfolios and individual developments. The team provides a broad range of services supporting building owners and managers to increase asset values and occupancy rates, provide tenant benefits and amenities and lower environmental carbon profiles while hitting the triple bottom line. By working collaboratively with the management and operations teams, Leading Edge makes it easy to incorporate sustainable practices into everyday operations and to achieve the highest environmental standards, including LEED, WELL, Wiredscore and ENERGY STAR. For more information, visit: www.leconsultants.net.