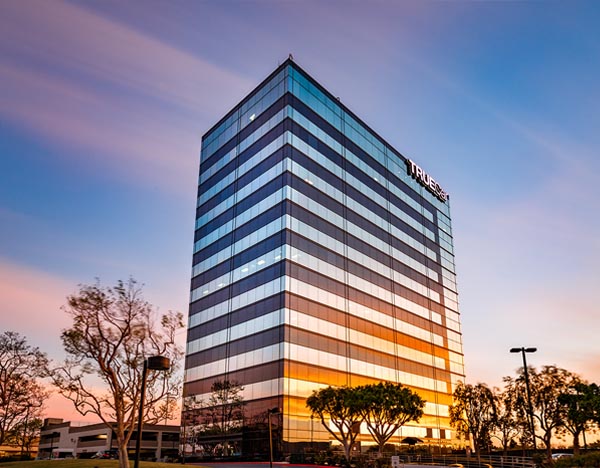 Revamped 3415 Sepulveda Adds New Tenants
December 13, 2018
Revamped 3415 Sepulveda Adds New Tenants
Newly renovated lobby and outdoor tenant space add to iconic building's
state-of-the-art appeal for businesses in West LA
LOS ANGELES, CA (December 13, 2018) – The Swig Company, LLC announced that it has executed over 40,000 square feet of new leases at Sepulveda Center, a 12-story Class A office tower located at 3415 S. Sepulveda Blvd. in West LA. The leasing activity represents 23% of the building's total leasable space bringing occupancy in the building to 90%.
Among the transactions signed this year is a full-floor lease with ISBX Corporation. The software and business app developer expanded their premises and will occupy almost 15,000 square feet. In addition, Love Productions, a UK based TV Production company represented by Jake Bobek of Avison Young, will expand to occupy a full floor in the first quarter of 2019. Deron White and Bryan Dunne from CBRE represented the landlord in these lease transactions.
Other tenants recently signed include:
First Service Residential
Technology Services Corporation
Carlos Lopez & Associates
Public Employees Legal, LLP
Five by Five Digital, LLC
Dyna-Search, Inc.
Sliced Bread, Inc.
Michael Steren
Immigration Offices of Los Angeles
The leasing activity follows a significant investment by the landlord to upgrade the building lobby to new modern finishes. The Swig Company is now completing a renovation of the outdoor public spaces with new seating, meeting spaces, landscaping and artwork.
"Tenants and prospects have responded very positively to the investments we've already made in the building, especially the new lobby experience, and we have received very positive feedback on the work now underway to create a more vibrant outdoor experience," said Cory Kristoff, SVP-Asset Management.
The work now underway and due to be completed by the end of 2018 will transform the outdoor public areas to create a visually compelling, atmospheric seating and gathering area where tenants and visitors can relax and take advantage of Southern California's sunshine in a peaceful, park-like setting. The building has 23,000 square feet of space available to lease including a full floor opportunity of 15,000 square feet.
3415 Sepulveda is an institutional-quality office tower located at the intersection of the 405 and 10 freeways at Washington Blvd. Tenants enjoy 360-degree panoramic views of West Los Angeles, as well as unobstructed views of the Hollywood Hills and the Pacific Ocean. The building has been Energy Star certified since 2008 and received a BOMA "The Office Building of the Year" award in 2011.
###
About The Swig Company:
The Swig Company, LLC is a privately-owned, San Francisco-based real estate operator with an 80 year history of investment, development, partnership and management of commercial real estate properties in major US markets. Founded by Benjamin H. Swig in 1936, The Swig Company is guided by a long-term investment perspective that has proven adept at stewarding investors safely through multiple market cycles. The company's vertically-integrated operational platform, which includes investment, asset and property management, and leasing expertise, uses flexibility, generational thinking and sensitivity to sustainable practices to stay at the forefront of emerging trends in the commercial real estate industry. For more information, visit: www.swigco.com.