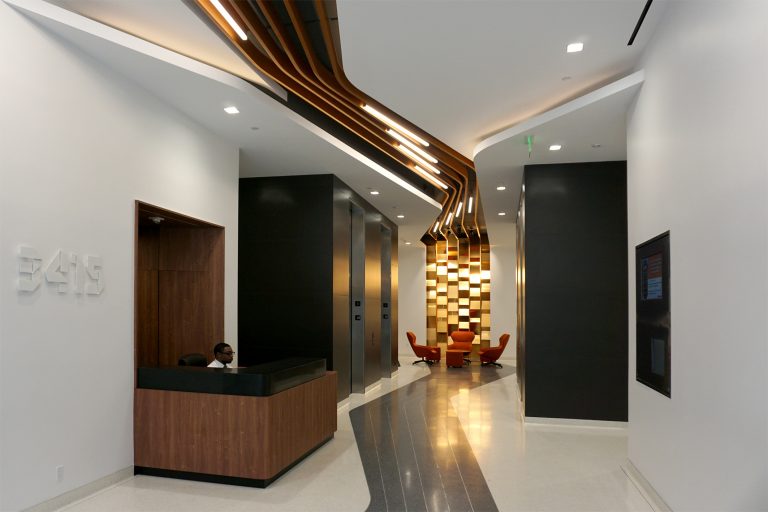 The Swig Company Completes First Phase of Renovation Program at Sepulveda Center
March 20, 2018
Los Angeles, CA – The Swig Company has completed the first phase of a renovation program at Sepulveda Center, the 12-story Class A West LA office tower it purchased in September 2016. A new lobby design, complete with high end modern finishes and a state of the art teleconferencing center, has just opened. In addition, the landlord has completed several spec suites in the tower, which are now ready for quick tenant occupancy.
Next on the list: complete renovation of the outdoor public areas to create a visually compelling, atmospheric seating and gathering area where tenants and visitors can relax and take advantage of Southern California's sunshine in a peaceful, park-like setting. This outdoor oasis will be completed in the fourth quarter.
The 179,334 square foot institutional quality office tower, located at the intersection of the 405 and the 10 freeways, boasts unobstructed views of the Hollywood Hills and the Pacific Ocean.
"When we purchased Sepulveda Center, we saw the value that could be added with a building capital investment plan that transformed the arrival experience and created ideal common areas for occupant enjoyment and convenience," says Cory Kristoff, SVP-Asset Management. "In the case of Sepulveda Center, we had a great canvas to work with and were able to implement design concepts that took an already iconic Westside asset to the next level as a tenant-friendly, creative business location."
Ricardo Moura of LA-based Wolcott Architecture designed the lobby and outdoor renovations. The impact of the improvements can't be underestimated. Last summer, with renovations in full swing, the US arm of British independent TV production company Love Productions (The Great British Bake Off) committed to a five-year lease, taking space on the top floor of the building.
About The Swig Company
The Swig Company, LLC is a privately-owned, San Francisco-based real estate operator with a 75+ year history of investment, development, partnership and management of commercial real estate properties in major US markets. Founded by Benjamin Swig, The Swig Company is guided by a long-term investment perspective that has proven adept at stewarding investors safely through multiple market cycles. The company's vertically-integrated operational platform, which includes investment, asset and property management expertise, uses flexibility, generational thinking and a sensitivity to sustainable practices to stay at the forefront of emerging trends in the commercial real estate industry. www.swigco.com
Published by: The Registry, Bay Area Real Estate
External Link: http://news.theregistrysf.com/the-swig-company-completes-first-phase-of-renovation-program-at-sepulveda-center