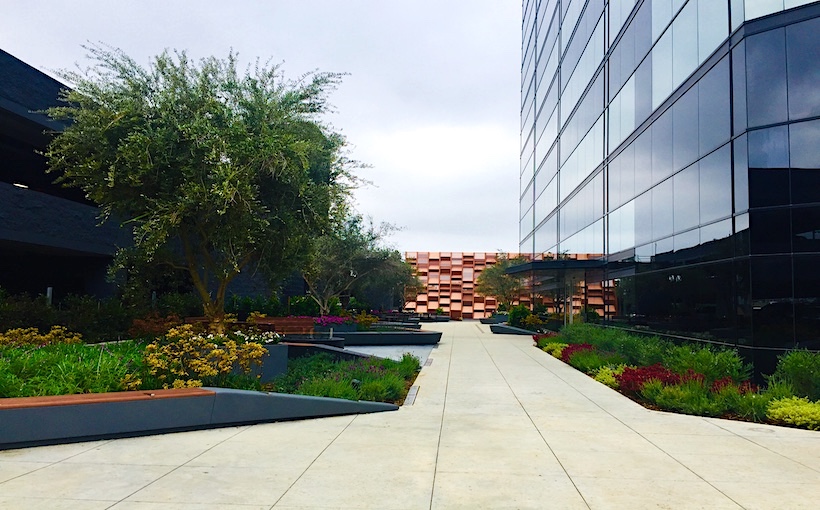 CRE INSIGHTS: A Peek Into Swig's 3415 Sepulveda Redo
July 26, 2019
The Swig Company completed a remodel of Sepulveda Center in Los Angeles. Connect Media asked the company's Cory Kristoff, SVP-Asset Management, to share insights behind the renovations at the nearly 180,000-square-foot tower in our latest 3 CRE Q&A.
Q: Sepulveda Center is a highly visible asset to commuters along the 405 freeway. What was the inspiration for the recent renovations at 3415 Sepulveda?
A: When we purchased 3415 Sepulveda, we saw a great opportunity to take an already iconic Westside asset to the next level. We collaborated with Carlos Carrasquillo and Ricardo Moura of LA-based Wolcott Architecture to reimagine the tenant and guest experience. With this new vision, and a little capital, we transformed the arrival experience, and created ideal indoor and outdoor common areas for occupant enjoyment and convenience. 3415 Sepulveda is also part of Swig's newly-launched h3experiences program, which allows its tenant members access to amenities and services throughout our California portfolio buildings.
Q: What makes 3415 Sepulveda such a good business location? Tell us more about the 12-story building.
A: It's an institutional office tower, in a great location at the intersection of the 405 and the 10 freeways, and it has unobstructed views of the Hollywood Hills and the Pacific Ocean. The new, modern lobby design, conference center, and common area improvements make it a convenient and wonderful place to do business that is centrally located in West LA. I particularly enjoy the newly-renovated outdoor areas that allow people to work differently. It's created an outdoor 'oasis' experience for tenants in which they can work and relax.
Q: Now that these renovations have been completed, what has been the response from a leasing perspective?
A: At the end of last year we announced leases that accounted for about 23% of the building, including several full floor leases, and that was a strong indication that tenants appreciate the new amenity spaces and location of the building. We're currently about 90% leased, and we have a few select opportunities remaining including one full floor.
External Link: https://www.connectcre.com/stories/cre-insights-a-peek-into-swigs-sepulveda-center-redo/