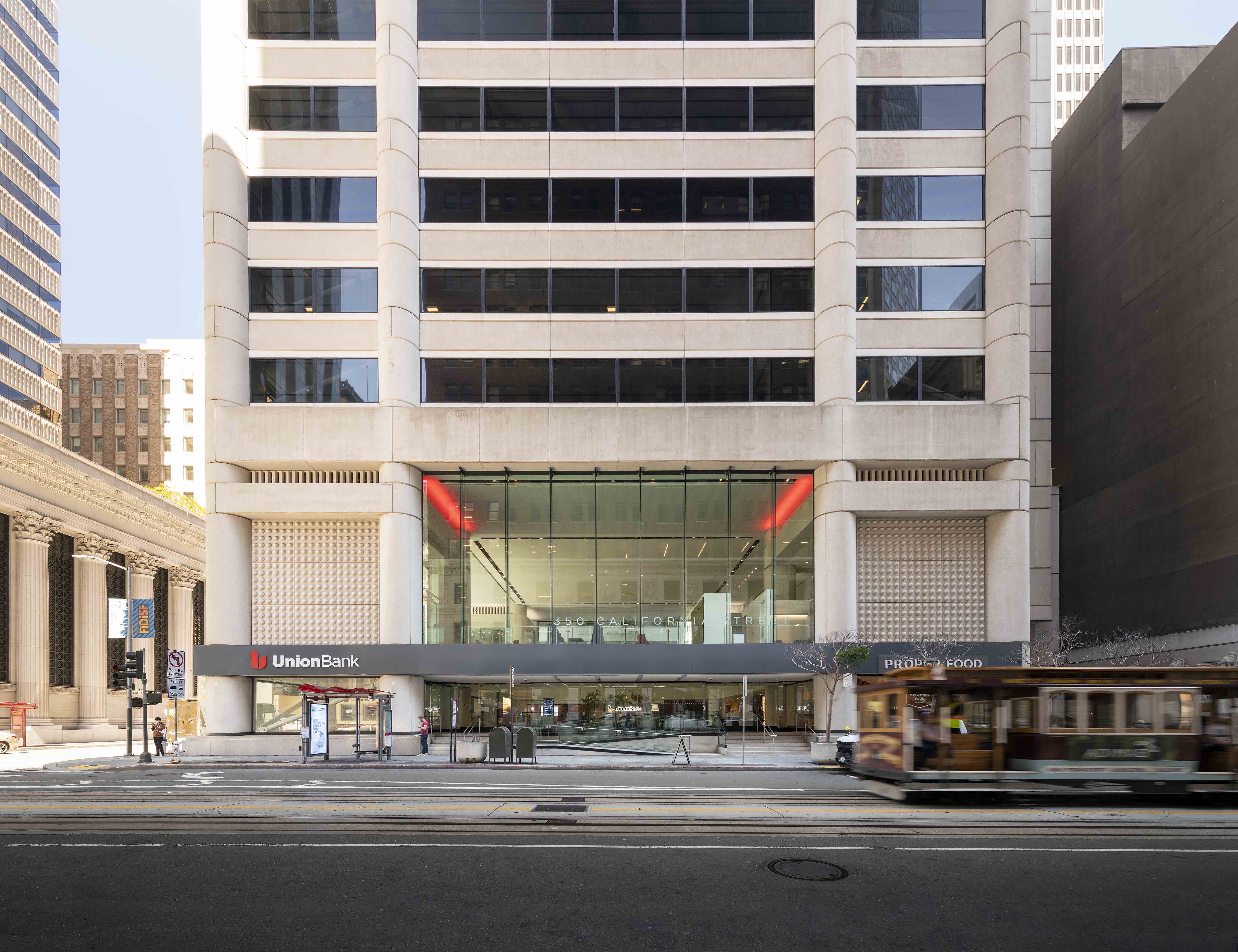 The Swig Company and SKS Partners Move Forward with Generational San Francisco Trophy Office Opportunity
August 31, 2023
The Swig Company and SKS Partners have completed the purchase of 350 California, a headquarters-quality, Class A office tower in the heart of San Francisco's financial district. The seller was Mitsubishi UFJ Financial Group (MUFG), which was represented by a CBRE team including Executive Vice Presidents Kyle Kovac and Michael Taquino, and Vice President, Giancarlo Sangiacomo.
"We viewed this as a generational opportunity to acquire an immaculately maintained and very well-located Financial District building at below replacement cost, and to do so with a skilled and trusted partner," said Connor Kidd, CEO, The Swig Company. "The Swig Company believes in building strong and lasting partnerships and we believe in San Francisco. This opportunity came about as a result of our retiring CEO Jim Carbone's 40-year relationship with Paul Stein and we want to thank them both for making this opportunity a reality," he added.
350 California was built in 1976 and has been extensively renovated in the last seven years, including significant upgrades to lobby and tenant amenities, as well as seismic, elevator, and building systems. In addition to a large, open lobby there is an expansive, wraparound tenant amenity center on the mezzanine level. The mezzanine features a conference center, game room, common area lounge areas, a kitchen, and a living (green) wall.
Kidd added that The Swig Company will evaluate continued sustainability improvements and certifications to the building in alignment with the Company's carbon reduction goals. "We see 350 California as a perfect home for companies, whether in growth mode or right-sizing, but especially those looking for a full floor of their own with very efficient floorplates," Kidd said.
The 22-story office building totals 297,642 s.f. and averages roughly 16,000 s.f. floorplates, which hits a sweet spot for much of San Francisco's current and historical tenant demand. MUFG will remain a tenant in approximately a third of the leasable space, providing immediate in-place income, and SKS and The Swig Company will market the remaining space to tenants seeking a high-quality California St. address with sweeping upper-floor views, proximity to BART and other public transportation, and a wide range of neighborhood restaurants including the legendary Tadich Grill and PABU Izakaya. The property is also just several blocks away from both the Embarcadero and Montgomery BART stations.
"The acquisition of 350 California Street reflects the certainty that The Swig Company and SKS Partners have in San Francisco's continued role as a center of business and innovation. We are confident in our city's future and look forward to the tenancy of 350 California Street contributing to the vibrancy of Downtown," says Paul Stein, Managing Partner, SKS Partners.
350 California is nearby some of The Swig Company's other San Francisco assets, including The Mills Building, 369 Pine Street, and the Russ Building, in which the company also has an ownership interest. In 2020, The Swig Company completed the redevelopment, repositioning, and lease-up of 633 Folsom St., the headquarters of Asana. Last December, The Swig Company leased 45,500 s.f. of renovated and redesigned space at The Mills Building to global architectural and design firm, Gensler.
About SKS Partners:
Founded in 1992, San Francisco based SKS Partners is an investor and developer of commercial real estate properties in the western United States. The firm has acquired, entitled, developed and operated over 10.5 million square feet of office, R&D/PDR, medical office, life science, mixed-use and multifamily projects. The firm's excellent reputation and investment track record culminate from its strong operating capability, extensive network of relationships and its consistent ability to identify emerging demographic and market trends in advance of other market participants. SKS' mission is to always be an innovative and responsible developer, to have a positive impact on the built environment. For more information, visit: www.sksre.com.
About The Swig Company:
The Swig Company, LLC is a privately owned, San Francisco-based real estate operator with an 87-year history of investment, development, partnership, and management of commercial real estate properties in major U.S. markets. Founded by Benjamin H. Swig in 1936, The Swig Company is guided by a long-term investment perspective that has proven adept at stewarding investors safely through multiple market cycles. The company's vertically integrated operational platform, which includes investment, asset and property management, and leasing expertise, uses flexibility, generational thinking, and sensitivity to sustainable practices to stay at the forefront of emerging trends in the commercial real estate industry. For more information, visit: www.swigco.com.